Here at SysTec, LLC our mission can be summed up in three core principles that we strive to achieve with each service call.
AFFORDABLE
We will provide you with the lowest price possible, but with no sacrifice in quality.  No hidden fees or overblown prices.
FAST & RELIABLE SERVICE
You can either bring the system to us for service or we will come to you.  We will work around your schedule.
HONEST SUPPORT
We take pride in providing honest and trustworthy service.  We will discuss the problems and cost of repairs before we move forward with the completion of service.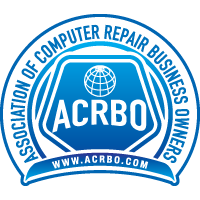 "The Association of Computer Repair Business Owners is dedicated to promoting industry education and improving consumer relations with professionalism and integrity. The Association members have skill sets ranging from computer repair, network installations, network security data recovery, web design and more."